IBM T.J. Watson Research
Industrial Hygiene, Safety and Chemical Services

Safety Spotlight
The most recent Safety Spotlight Award winner is Jeff Kelley. Jeff, a Research Staff Member in the Interactive Transaction Systems department, is a board-certified ergonomist and was recently elected Fellow of the Human Factors and Ergonomics Society. We recognize Jeff for his on-going contributions to the T.J. Watson Research Center emergency response program through his availability as a firefighter and volunteer EMT, in addition to efforts in the area of training and communications. Jeff has also been an active participant on the Watson Office Ergonomic Team with specific contributions regarding training/awareness, implementation of the Hawthorne office ergonomic demonstration room, availability of ergonomics-related accessories, and interface with the Human Factors and Ergonomics Society.


Jeff is pictured below with some of his emergency response equipment.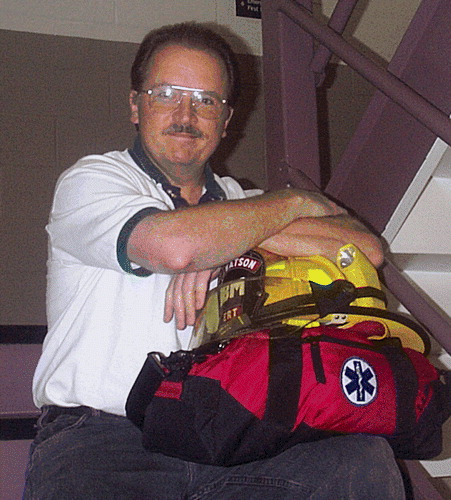 The TJ Watson Research Center Safety Spotlight is an on-going program designed to encourage a safer and more productive work environment by recognizing individuals and teams who demonstrate exceptional IH/Safety performance.
---
Safety Spotlight Criteria


The TJ Watson Safety Spotlight is awarded to individuals or teams that demonstrate continuous safety excellence and have a significant positive impact on employee safety in an organization or across the site. Some general criteria are listed below:
"Above-and-Beyond" Initatives (examples: promoting organizational safety awareness or taking responsibility to resolve a safety issue that extends beyond your immediate work assignment).
Unique Contributions (examples: developing unique controls for working alone in high hazard areas, developing unique chemical labeling solutions, developing proactive safety controls, etc.)
Active Participation in Safety Programs (examples: serving on the emergency response team, a safety program implementation team or as a laboratory safety representative)